Voice for Life
We are very lucky at St Nicholas to have the opportunity through our Choral Foundation to offer the Royal School of Church Music Voice for Life scheme. Training a choir is both a challenge and a joy. The Voice for Life training scheme provides a framework for singers to develop their vocal skills, their musical understanding and their knowledge of repertoire.
How Voice for Life works
There are five levels in the Voice for Life scheme, from beginners through to advanced singers, starting with a preparatory level for brand new, inexperienced singers.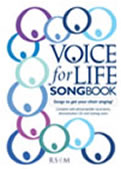 White (preparatory level)
Light Blue
Dark Blue
Red
Yellow
Although the voice for life scheme is aimed at encouraging young people in to the Church Choir, we recognize that all styles of music are important. We aim to include different styles of music. There will also be the opportunity for individual sessions, to work towards the prestigious Bronze (Deans Award), Silver (Bishops Award), and Gold awards.
Commitment
In order to participate in the scheme the commitment is to attend rehearsals once a week on Thursday from 6.45pm until 8.00pm in Church. As well as this regular attendance at the Sunday morning service is required. Each individual can work towards and award at their own pace and will be evaluated at the end of each session.
If you are interested in finding out more about the scheme please contact Cara Barseghian Assistant Director of Music and Leader of the Youth Choir or Dominic Desouza-Campbell Organist and Director of Music. E mail:
[email protected]