Weddings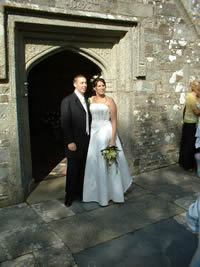 A marriage service is a public declaration of love and commitment to your partner. If you choose to get married in church, there is an extra dimension – the assurance that God cares about your relationship and that his resources and strength are available to help you. Including God in your marriage doesn't mean that you will avoid the usual ups and downs, but you will know that you can look to God for help and guidance and that his love will sustain you.
The Bible compares married love with the love Jesus has for his followers. He expressed his love by being prepared to die for the people he loved. This is amazing, unconditional love. Jesus never said 'I love you, but...'. In our marriages we can try to follow his model by loving our partners in a self-sacrificial way, putting their needs before our own.
To have your wedding at St Nicholas' we must abide by marriage law which changed in October 2008 to make it easier for you to get married here. One of the couple should have a link with the parish as defined by the new law - please contact the vicar for details. If you've been married before you will need to meet with the vicar to talk about your circumstances, before booking. Whatever your circumstances; please do contact us and we will help if at all possible.
To find out more look at the Church of England web-site
.
Banns of Marriage, Weddings and Dedication services following a civil marriage should be arranged with the Vicar.
St Nicholas Church is very often used for receptions following a church service celebrating a life event; St Nicholas' recommends
AutonLloyd Catering
or '
Cakes and Quiches
' as caterers who will help you with all your arrangements. Please see the links page or
contact the Parish Administrator
for further details.
{pgslideshow id=2|width=300|height=300|image=L}