Bell-Ringers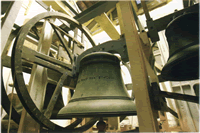 The Tower houses what we like to think of as the finest ring of bells in Sussex and is one of what we believe to be only 3 ten-bell peals in the Diocese.
Around the walls of the ringing chamber are plaques commemorating some notable marathon peals.
The earliest and longest of these, by the "Society of Cumberland Youth" bell ringers in 1779 was a ring of 11088 changes on 8 bells and lasted 6 hours, 50 minutes which, it might not have qualified for the 1780 equivalent of the "Guinness Book of Records" (after all the number of changes possible in 8 bells runs to something over 40,000) suggests a considerable staying power on the part of 18th Century bell ringers and is, perhaps, a comment on the gentler pace of life in those times.
The bells were recast and re-hung in 1922 at a cost of over £1,000. The tenor bell, St. Nicholas, weighs 18cwt 20lbs (2036lb) and has a diameter of 47". It bears the inscription:-
"Pray for our children
Pray for our Sailors,
Pray for our Town.
I to the church the living call,
And to the grave do summon all."
The bells are rung every Sunday ahead of the 10:30 Eucharist (ringing is from 09:45).
The ringers practice at St Nicholas on the 2nd and 4th Monday of each month, from 7:45pm until 9:00pm. On alternate Mondays (1st, 3rd, 5th) the practice takes place at nearby St Peter's church..
For more information about ringing at St Nicholas please contact Gavin Bennett (Secretary)
[email protected]
or Marion Huang on 01273 728343